STORAGE SOLUTION • FLOATING ASHTRAY • JOINT CONE • BASIC TRAY • STORAGE SOLUTION • FLOATING ASHTRAY • JOINT CONE • BASIC TRAY • STORAGE SOLUTION • FLOATING ASHTRAY • JOINT CONE • BASIC TRAY • STORAGE SOLUTION • FLOATING ASHTRAY • JOINT CONE • BASIC TRAY •


Introducing a new way for us to test a wide gamut of fun and functional ideas, in a low–waste production process. All 3D printed with plant–based plastics in North America.
These products are 3D printed by a human, every product will have slight variations.
The Prototype Shop
The place where you'll find new age BIC pen lids, a custom Storage Solution, The Basic Tray, and THE Floating Ashtray, all 3D printed with plant-based plastics in North America.
THE STORAGE SOLUTION™
From our seasoned years of smoking weed, we realized people who love rolling joints need 3 things — a grinder, papers, and joint cone ... so we made a home for all 3.
I WANT THIS
Fits any pack of papers (horizontally or vertically), and fits our Hamburger Grinder, or any 2.2" inch grinder. Matching Joint Cone IS INCLUDED.

Size: 3.1" by 3.9" by 0.8"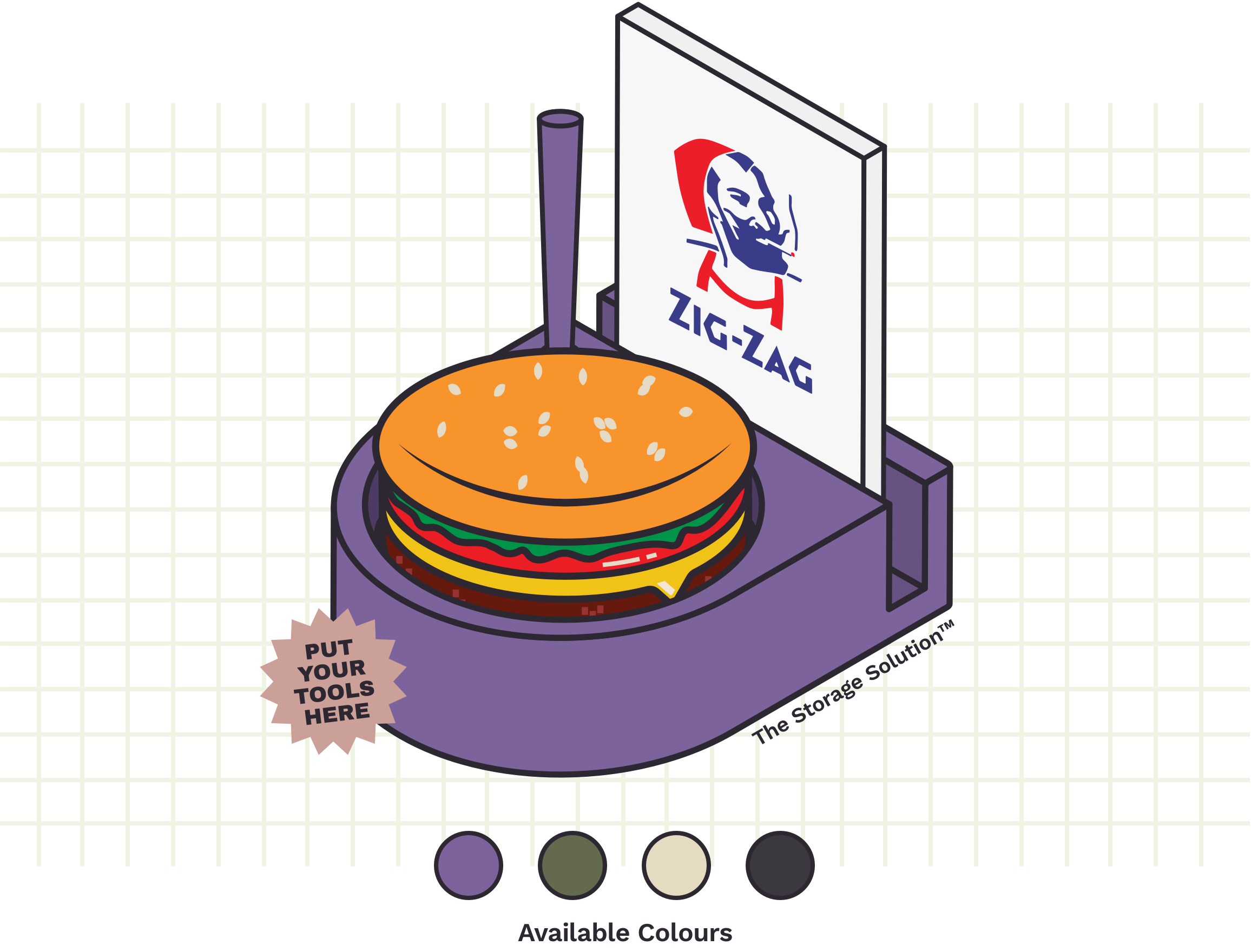 THE FLOATING ASHTRAY™
3D printed with plant-based plastics, The Floating Ashtray protects your precious flower from any splishing or splashing, and makes it easy for you to soak, float, and smoke.
I want this
This product was originally built for the bath, but thanks to you we realized it's also great for pool parties, hot tub hangs, and we've even seen it floating in a lake! Please consume cannabis responsibly while in hot water — always start low and go slow.

Lily Pad Size: 6.5" by 6.3" by 0.6"
Flower Ashtray Size: 3.8" by 4.2" by 1.25"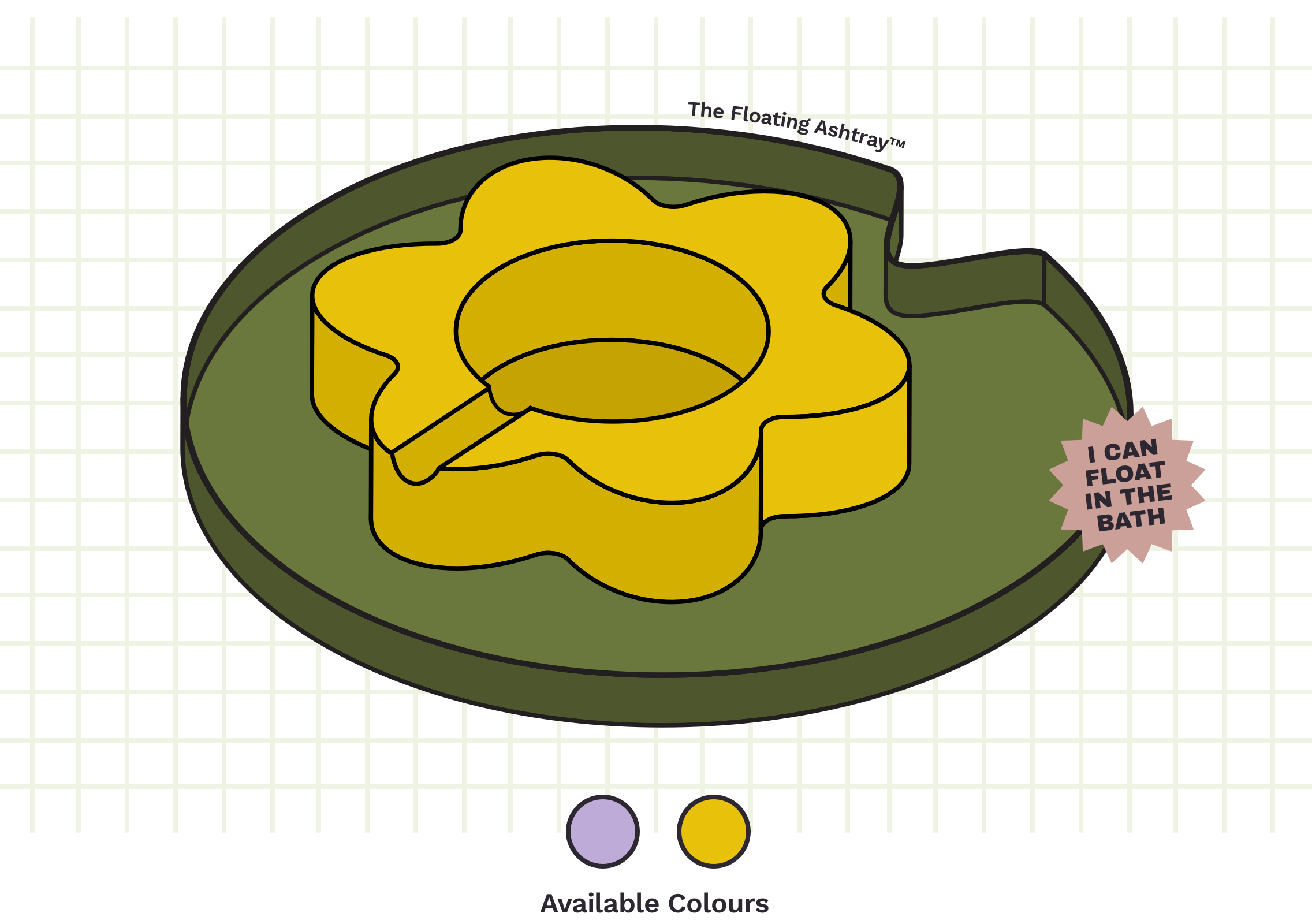 WHAT IS THE PROTOTYPE SHOP?
Think of it like an idea playground! This is the place where we turn our doodles into 3D printed prototypes for you to purchase. Curious to learn more? Fancy that! There are paragraphs right below.
The Sort-Of-Short History
As two people who love smoking weed and doodling, we kept finding ourselves drawing products that we wished existed in the world. Then, we decided we didn't have to do things how they've always been done, we could create Another Room (see what we did there) for ourselves. A little room for rebellion. Literally. We got a 3D printer, and turned those ideas into physical THINGS. OURSELVES. IN OUR APARTMENTS. We narrowed down our doodles to the 4 products you see.

Another Look At Product Development
Developing a new product requires a sizeable investment of time and capital to prototype, test, and eventually manufacture at mass quantities. We found that this process doesn't provide much of an opportunity for smaller, self-funded teams. This, paired with little to no consumer testing can lead to an overage of potentially pointless products being produced — some of which have been our own. The Prototype Shop is our hopeful solution to all of that.

The Future Of Weed
We've been trying to find new ways of bringing our ideas to life, and it wasn't until we were introduced to Jointlockers, that we saw the power of 3D printing. When we said the words "Welcome to the future of weed" we really meant, welcome to the future of how we develop products — 3D printing allows us to take an idea, and prototype it almost instantly. Yes, there is always a process (and yes, it gets messy), but it makes tangible product design and testing accessible.



Staying True To Fun + Function
We've always been committed to building things that fit into the common situations that stoners find themselves in. Wet joints, mismatched stashes, using old pen lids, and having boring baths. We've made it our mission to create all of the goods you need if you smoke weed, in the most entertaining manner possible. This will be nothing short of that.





Building A Feedback Loop
Do we think these products are super awesome? We sure do! Could they be even better with feedback from people using them who aren't us? Ab-so-fruitly. Anyone who purchases from The Prototype Shop will be invited to provide feedback on that product/s, allowing us to perfect the product with the people who are actually using it.



An Ode To Kash
Some of you may know Kash as the creator of Jointlockers, yes, literally the inventor. Along with trusting us to be the home of Jointlockers (we love you), she also introduced us to 3D printing. She showed us what it looks like to problem solve solutions, that almost anything can be 3D printed, and that no detail is too small. Without Kash, The Prototype Shop wouldn't exist as it does. So raise your joints, to Kash.

THE JOINT CONE™
For a long time, we had the lid of a BIC pen, now, we have the Joint Cone. This multi–use tool is made for rolling and packing personal pinners.

I want this
How it helps with rolling a joint:
Simply place the cone and filter in the centre of your paper, (if that's your jam), wrap the paper around the cone, pop the cone out, and use the thin end for packing. Good for noobs to doobs, and seasoned smokers.

Size: 0.3" by 2.3"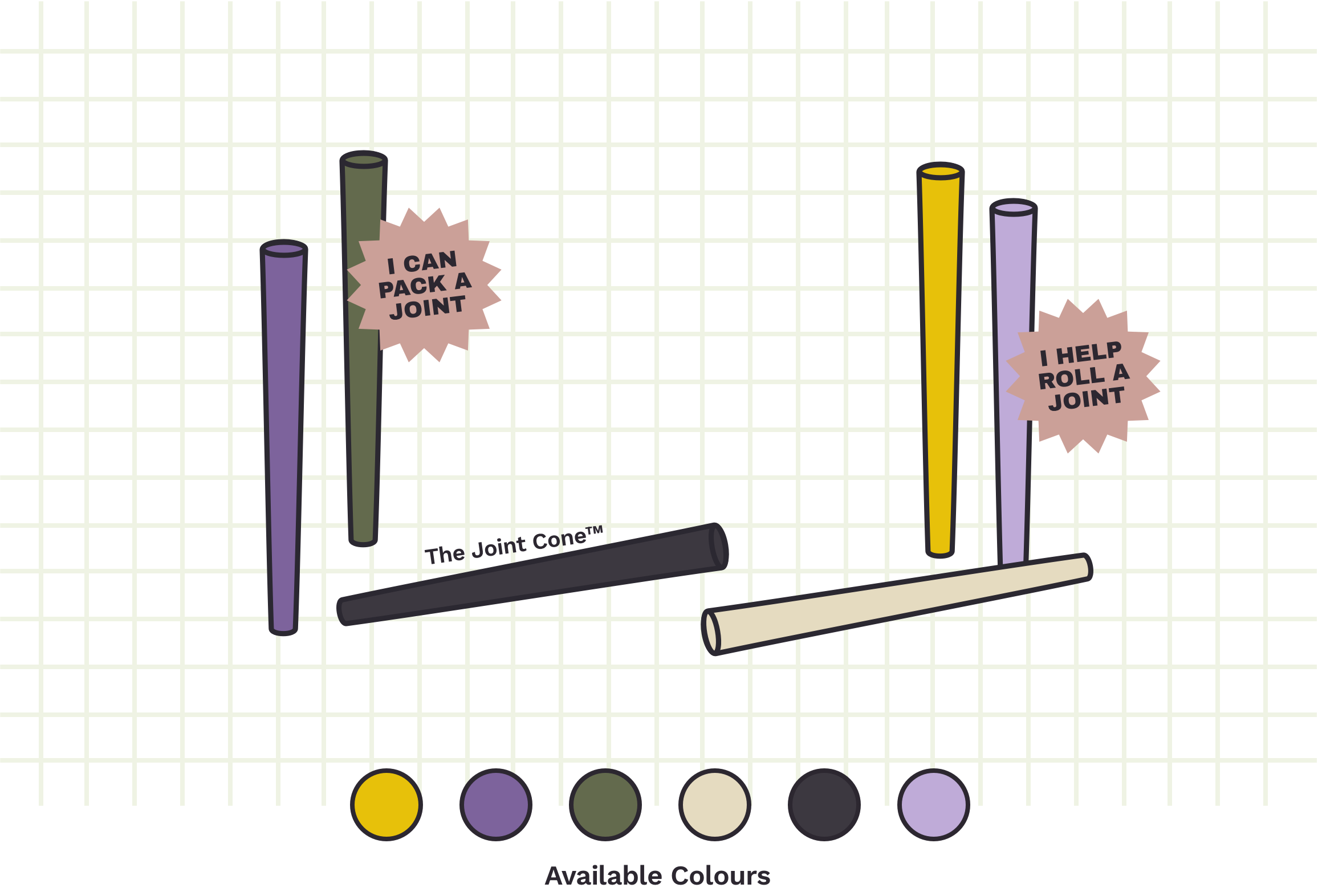 THE BASIC TRAY™
Basically, this tray does what most trays do. It's good for rolling joints, storing stuff, and putting things on. What makes this tray better? Well, it's 3D printed with sustainable plant–based plastics, and it'll match all of your other accessories.
I want this
Store your items or roll your goods on The Basic Tray. Accompanied by The Storage Solution and Hamburger Grinder, we like to call it The Whole Shabang.

Size: 6.7" by 3.6" by 0.4"